NBA Experience Guide – NBA Experience-Part Time, Walt Disney World
Apply Now
Apply Later
Job ID:
666481BR
Location:
Lake Buena Vista, Florida, United States; Orlando, Florida, United States
Business: Walt Disney World Resort
Date posted: 05/08/2019
Job Summary:
Be part of a unique experience where you will have the opportunity to bring an authentic and unforgettable NBA experience to life! The NBA experience is a first-of-its-kind fun and thrilling way to offer our Guests the opportunity to fulfill their dreams of being scouted, throwing down a monster-jam or hitting a game-winning shot. We are recruiting for an NBA Experience Guide that will be expected to deliver exceptional, high-energy, immersive experiences to our Guests as they participate in over a dozen games and challenges that bring their own, individual NBA experience to life.
NBA Experience Guide Cast Members receive a starting rate of $13.75/hour.
Responsibilities:
The NBA Experience Guide will be responsible for guiding and immersing our guests in their individualized and personalized player experience through interactive coaching, side-by-side skills demonstrations, and cheering players on in the challenges! Along the way, you will also share your passion and knowledge about the NBA franchise. Additionally, Cast will be responsible for maintaining a high regard to safety at all times including monitoring the use of proper safety standards and equipment.
This role will require side-by-side, energetic coaching and physical demonstration of basketball skills and knowledge for both individual and groups of Guests. This includes interactive play with a basketball, chest passes, and ball retrieval throughout the entire day of your assigned shift as you guide Guests throughout their experience. NBA experience Guides will be delivering a unique player experience to the Championship Zone using their personal and dynamic style and are responsible for the extended Guest experience from the time they check in until they depart.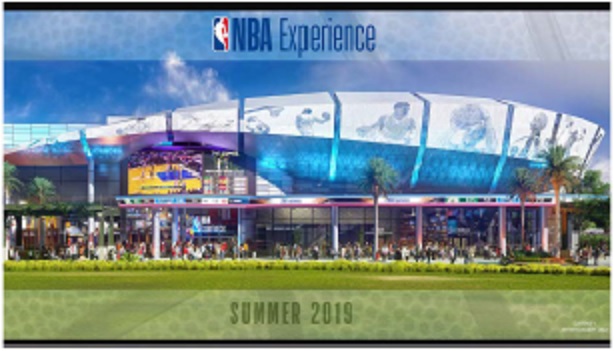 Basic Qualifications:
Ability to lead and demonstrate physical, high-energy activities
Demonstrate knowledge and passion about basketball and the NBA franchise
Ability to guide Guests on a personalized and immersive experience that is authentically NBA and delivered in a distinctively Disney way
Anticipate and assess individual needs, and demonstrate the ability to proactively develop individualized non-scripted experiences for our Guests
Demonstrate ability to coach and guide Guests on proper athletic skills, forms and techniques to maximize their player experience
Ability to encourage, cheer and provide positive feedback to guests
Ability to be successful in a skills assessment & ongoing in your daily role whereby demonstrating techniques and skills related to the NBA experiences. These include:

Complete chest passes at a min. distance of 10 feet
Complete bounce passes and receiving of passes at a min. distance of 10 feet
Ability to complete 45 dribbles in 45 seconds
Ability to bend down to retrieve loose basket balls and successfully control a basketball which has rebounded from a backboard/rim
Ability to demonstrate proper sling shot technique
Ability to demonstrate an authentic "high five"
Demonstrate ability to shoot a basketball in an overhand fashion and successfully hit the backboard from 10 feet

Ability to demonstrate strong Guest service skills including ability to resolve guest issues and concerns directly or through engaging the right partners
Ability to demonstrate problem solving and decision making skills
Ability to walk/stand for long periods of time
Ability to work independently and to multi-task
Proficient at providing an immersive experience for Guests and high level of Cast to Guest engagement
Must be comfortable surrounded by large groups of people and working in enclosed spaces
Demonstrate strong communication skills
Basic computer skills to operate mobile devices and other computer systems and being responsible for safety of the Guests within the experience
Demonstrate ability to work in a team environment and adjust quickly to operational changes
Ability to positively interact with Guests and fellow Cast Members
Ability to demonstrate follow-through skills with multiple levels of the organization
Flexible scheduling availability including first and second shifts, third shift if applicable, weekends, holidays, overtime and double shifts
Part-Time requires full availability for any shift a MINIMUM of three (3) days per week, including nights and holidays
Preferred Qualifications:
Previous experience in Guest Relations
Experience with leading guided tours
Previous or current experience with basketball or other organized team sports (coach, manage, play)
Bilingual preferred
Additional Information:
SUBMITTING YOUR APPLICATION
After clicking "Apply for this job" below, the employment application will open in a new window. Please complete ALL pages of the application by clicking "Next" on each page, then "Submit" on the final page.
IMPORTANT:
You may only apply once in a six month period. If you have applied within the last six months, please log in to your account to view your current application status.
keyword: wdwcasting
About Walt Disney World Resort:
Since opening in 1971, Walt Disney World Resort has played an important role in many childhood and family memories. Today, hundreds of millions of guests from around the globe visit this magical place to enjoy a Disney vacation. Through a combination of creativity, innovation and technology, the resort immerses guests in classic Disney tales and new kinds of family entertainment. Drawing from a rich heritage of storytelling, Walt Disney World Resort cast members bring Disney magic to life through unmatched attention to detail and superior guest service.
About The Walt Disney Company:
The Walt Disney Company, together with its subsidiaries and affiliates, is a leading diversified international family entertainment and media enterprise with the following business segments: media networks, parks and resorts, studio entertainment, consumer products and interactive media. From humble beginnings as a cartoon studio in the 1920s to its preeminent name in the entertainment industry today, Disney proudly continues its legacy of creating world-class stories and experiences for every member of the family. Disney's stories, characters and experiences reach consumers and guests from every corner of the globe. With operations in more than 40 countries, our employees and cast members work together to create entertainment experiences that are both universally and locally cherished.
This position is with Walt Disney Parks and Resorts U.S., Inc., which is part of a business segment we call Walt Disney World Resort.
Walt Disney Parks and Resorts U.S., Inc. is an equal opportunity employer. Applicants will receive consideration for employment without regard to race, color, religion, sex, national origin, sexual orientation, gender identity, disability or protected veteran status. Disney fosters a business culture where ideas and decisions from all people help us grow, innovate, create the best stories and be relevant in a rapidly changing world.
Apply Now
Apply Later